About CAAC
The Central Appalachian Astronomy Club is a non-profit organization. Our goal is to promote amateur astronomy and share our experiences with others. We are partners in education with area schools and universities. Membership is open to the public. Meetings are held monthly at the home of our president Joe Gonzalez. This is also the location of our club's observatory.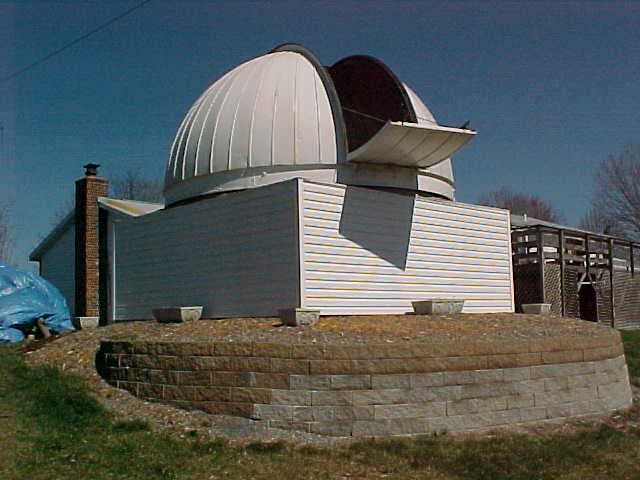 Our Observatory
The observatory is a twenty foot Ash Dome and houses our 16 inch Meade LX200 telescope. Members are able to arrange viewing time on this amazing instrument. We can also show groups live images of objects using an electronic eyepiece to display on a large monitor.
Central Appalachian Astronomy Club
Our next meeting will be on Saturday, August 28 at 6:30. Please bring a dish for everyone to share at our dinner before the meeting. If you need directions, please go to our website, caacwv.com
Also, join us virtually on Sept 22, 2021 at 8 PM EDT when the Central Appalachian Astronomy Club and the Astronomical League present the next chapter in 7 MONTHS OF SCIENCE, a VIRTUAL fantastic scientific adventure! FREE to listen in!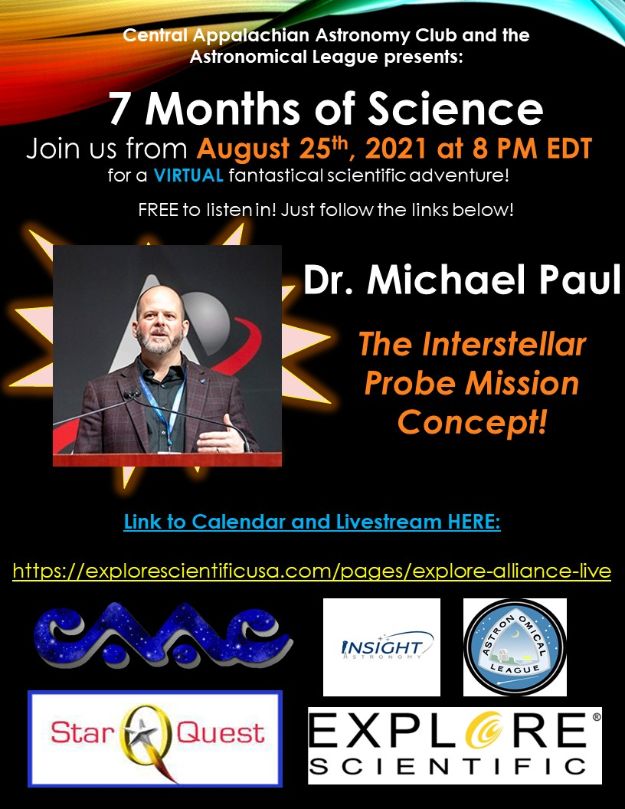 Additional club information can be found on our Facebook page: "Central Appalachian Astronomy Club".
Check out our links page
for many great astronomy related resource sites.
Green Bank Star Quest
Has been Scheduled for
June 29 - July 2, 2022.
Please check the website and the Facebook page frequently, for additional info as it becomes available to us. We hope to see you there!!!
PayPal and Mail in registration are being updated and will be available soon.
Visit and like our Facebook page Green Bank Star Quest.
or call 304-265-5514 ~~~~~~~~~~~~
Central Appalachian Astronomy Club and the Astronomical League
presents: 7 MONTHS OF SCIENCE
Join us 8 PM EDT for a our VIRTUAL fantastic scientific adventure show!
FREE to listen in! Just follow the links below!
Below is the link for our 2021 Presentations. The links will also be posted on the Astronomical League Facebook page, where this will mainly be live-streamed. Astronomical League has also agreed to post the stream as YouTube videos for anyone not able to watch it that evening.
Here are the dates throughout the rest of the program (all should start at 8 pm ET):
Sept 22nd
October 13th
November 10th
http://www.greenbankstarquest.org. Contact phone 304-669-3555 or 304-265-5514.